Hello everyone!

As my very first review on this blog I choose one of my favourite korean beauty products, the Wonder Pore Deep Foaming Cleanser by Etude House. 
My skin is extremely problematic and sensitive so I've had a hard time in the past few years finding a cleanser that cleans effectively but not irritating my skin. Most of the face washes I've tried either caused me my breakouts, dried my skin or they were too gentle and didn't do their job removing dirt and left over makeup.
Now as I'm done with my 2nd pack of this face wash I think I've found my regular cleanser for a while. So this review is not really a first impression, more like an overview after using this product for almost half a year.
So let's get started!
This daily cleanser is a part of the Wonder Pore line made for people with oily or combination skin with big pores. It's for deep cleansing clogged pores and removing excess oil and sebum from the skin.
Packaging
The look of this cleanser is just adorable it's a really cute product to have on the bathroom shelf. It's quite big (17o ml) so for me it's easily enough for more than 2 months using it twice a day. The bottle is soft enough to squeeze out almost all of the left over cleanser when the product is running out.
Besides the seal on the tip of the bottle it comes in plastic wrapping so you can be sure it's brand new and it was not used by anyone in the store.

Smell and consistency
It has a very fresh strong peppermint smell but doesn't smell unnatural or chemical like. It also leaves a fresh minty feeling on the skin after using it which made me worried at first because it felt like it's something that will irritate my skin. But luckily it didn't hurt my sensitive skin.
The product is white with little blue beads in it. It's quite thick and foams up while rubbing it on the wet skin.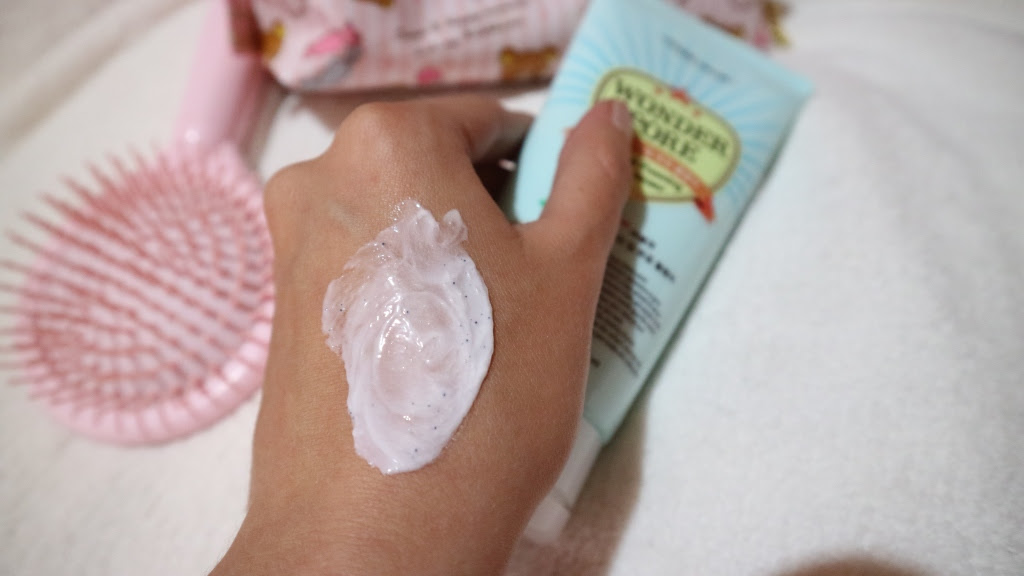 Effectiveness
This face wash promises to help with this 1o issues:
1. Deep Cleanse pores 
It does clean my skin really well although it do not exfoliate the skin too much. Even tough it got the small beads they are not strong enough to really get into the pores so I'm still using a separate exfoliator a few times a week.
But it does a good job as a regular daily face wash.
2. Minimize appearance of pores
I've got some really big pores on my cheeks and on the tip of my nose – of course it can't get rid of them since those are basically impossible to get rid of. But I believe it does a good job keeping my other "normal sized" pores as small as possible since I didn't notice any new big pore on my face since I'm using this face wash.
3. Control a large amount of sebum
My skin is really oily mostly around my nose and cheeks and living in a very humid country makes it even worse. This cleanser gets rid of it easily and I've noticed it takes a bit longer for my skin to get oily during the day after washing my face with Wonder Pore.
4. Moisturize inside and outside of skin  
This is one of the main reasons why I like using this cleanser. Most of the products for oily skin will do get rid of oil but also dry out my skin. But with Wonder Pore it didn't happen even after using it for months. My skin never gets dry lately even if I forget to use moisturizer sometimes.
5. Complete smooth glass-like texture
It may sounds funny but do you know that feeling on the skin when it kind of feels like rubbing a squeaky glass after using a nice face scrub or mask? The blue beads in this cleanser are might not strong enough to remove blackheads but it is good for achieving squeaky clean feeling which I love.
6. Balance skin's ideal pH level
I didn't know much about the skin's pH level but it was the time to learn after some fast research. So basically higher pH skin is more likely to be dry and too low pH couses the skin to be more oily and acne prone. The pH level of this cleanser is around pH 8,5 which is pretty high. (Normal skin pH should be around 5). So their aim is to balance the pH of oily skin by using a higher pH wash.
I don't know if it worked since my skin didn't get more or less breakouts than before it's just the same. But even though the high pH it didn't dry out my skin also as I mentioned before.
7. Refine skin tone
I didn't notice a big difference on my skin tone but it is less red than before. I'm not sure though if it's because of this face wash or other reasons.
8. Keep the elasticity of pores
The same as I mentioned before – I didn't notice any big difference but I also didn't get a new one of those huge pores that are impossible to get rid of.
9. Remove skin surface's dead skin cells
It does make my skin smoother and squeaky clean after each use which is very nice from a daily cleanser.  But I do use an other face scrub several times a week. Which is ok since it's not healthy to exfoliate the skin too much every day anyways.
1o. Cleanse pores inside with cooling effect
Yes it has a strong, fresh cooling effect which may bothers some people. I didn't like it as well for the first time but since it didn't irritate my skin I'm ok with it and used to it now. It just actually helps making the skin feel extra clean.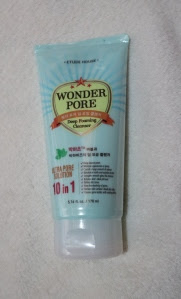 So overall I love this product!
It does perfectly what a daily cleanser is supposed to do: getting rid of all the dirt and sebum and it's also easy to remove left over makeup with it.
I didn't notice a huge difference in my pores though but they didn't get any worse also since I'm using this wash. Plus I believe it helped with controlling the oiliness of my face.
I just started using my 3rd bottle of it and I'm pretty sure I will repurchase it again after it runs out since this is the first cleanser in a long time that didn't harm my skin in any way but cleaned it well.
It definitely worth a try if you have sensitive, oily to combination skin.
I hope this review was useful, please look around if you would like to see more. Do you have any recommendations what should I try next?
See you next time!(๑◕ฺ‿ฺ◕ฺ๑)